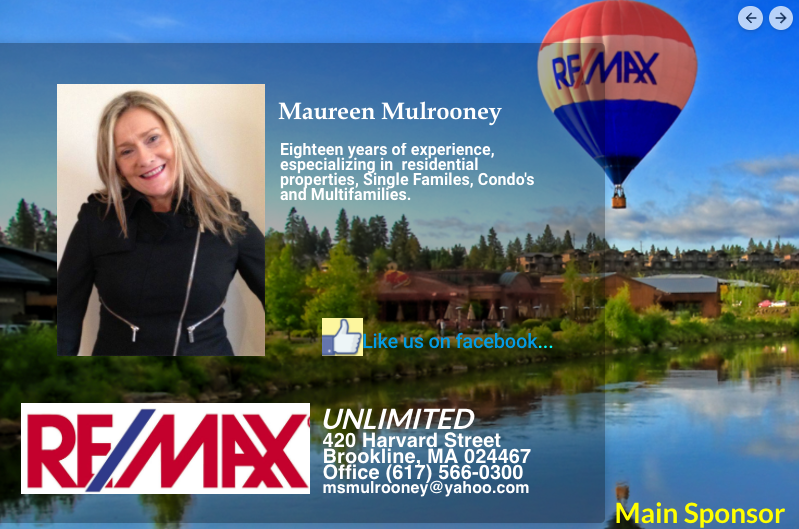 Meet  Maureen Mulrooney, born and raised on the West coast of Ireland. In  a family of 12(6 boys,6 girls).Moved to Boston in 1991 at the age of 25.I live in Belmont,MA.Happily divorced but have 3 beautiful daughters,21,19 &14.
Please describe your work:
I'm a Real Estate Agent/Realtor for RE/MAX Unlimited,Brookline,MA.I specialize in selling and leasing residential properties..i.e Single family,Condo's,Multi family in Greater Boston,Metro Boston and surrounding city's & towns.
Years in the Business: 18 years
What do you love the most about fashion:
I love a good fashion design,the way the garment fits the body perfectly.
Describe your main inspiration behind your work:  Motivation.
Where would you like to be in 5 years: I"ll just have turned 56--wow--here for one,and healthy and happy!
10 years..again healthy,happy and I pray that I have lots of wonderful things going on in my life!
What fashion designers do you admire the most:
DH Studio's,Inc
Karen Millen
BCBG
CABI
Michael Kors
Jessica Simpson-for footwear
Describe your customer:
My customer's are either listing their home with me or buying one.Also some others customers are landlords that want to rent/lease out their properties and tenants that need to rent them.
Describe what gives your products value:
consumers.
What makes your work different:
My experience in the business and I've a wonderful referral and repeat business database.
Are you affiliated with any charities:
Yes..many,but my main one is the Children's Miracle's program at Boston Children's Hospital.
What influenced you decition to sponsor DH Studio Inc?
Daniel and I go back now about 6 years,we met through our wonderful mutual friend Shyana.I've been to many of his shows,bought lots of his garments.
He's an awesome designer and I believe in him and I would love to see him more famous in the industry,see his fashion in all the top places,because he truly deserves it.
Contact Info:
Maureen Mulrooney,
RE/MAX Unlimited,
420 Harvard Street,
Brookline,Ma 02446.
cell:617 943 5311
office:617 566 0300
Fax:617 566 4499
website:maureenmulrooney.mlspulse.com