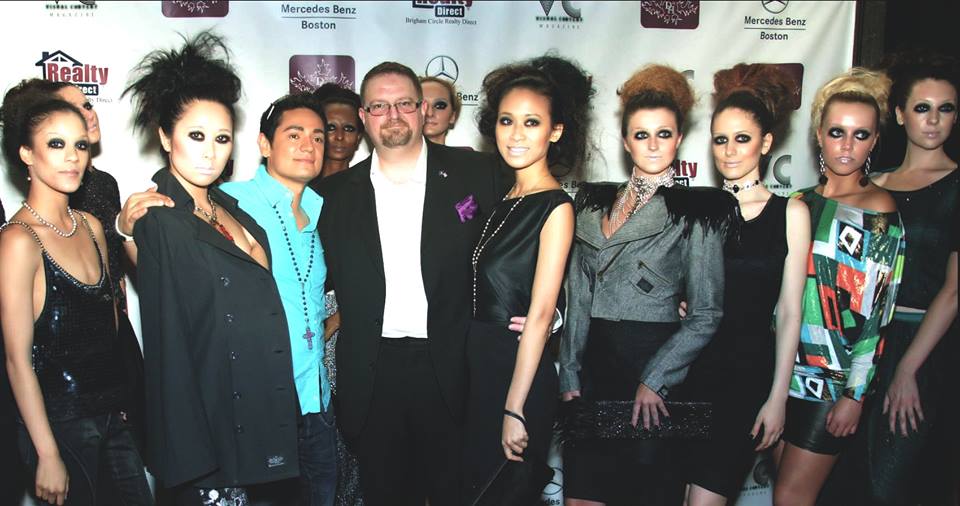 On the Picture: Dennis, Daniel and our team of models @ Bond for VC MAG.
Whe you think of Mercedes Benz  Fashion Week, you automatically think style, the luxury car brand has been behind the New York high fashion scene for a few years. As some of you may have noticed Mercedes Benz Boston has been very supportive of the local fashion scene as well. This year thanks to Dennis Saint Aubin, Fashion Event Liaison for Mercedes Benz of Boston, DH Studios Inc has the privilage of having them sponsor the upcoming Boston Fashion Week 2013 event "EXTRINSIC 2" . here is a short interview to Dennis where we learn a bit more about Mercedes Benz:
Tell us a bit about your self Dennis:
Hello all my Name is Dennis Saint Aubin. I grew up the son of a Federal Park Ranger and as such got to live in some of the most rural and beautiful places in America. I grew up very outdoorsy, but spent as much time drawing and painting as I did hunting and fishing. I am a Pratt Institute graduate, and Also attended Boston University at their School for the arts. Despite my formal education I was involved the nightlife and foodservice industries for 20 years, at places like, Abe and Louie's and The Fifteen Beacon Hotel. I have been with Mercedes Benz of Boston for eight years now, and put my art background to work acting as their Fashion Event Liaison.
Please describe your work:
Primarily I spend the majority of my time on the sales floor assisting clients with their automotive needs, in addition also act as the Fashion Event Liaison for Mercedes Benz of Boston. We feel that there has always been a strong relationship between Mercedes Benz and fashion.
Years in business?
Eight Years
What do you love most about fashion?
That's tough to nail down, as there is so much to love. First I would have to say I love the creative passion, the drive that starts with an idea, then progresses to sketches and executions! I love the thought process! Then there's the absolute beauty and pageantry of it, the way a garment expresses an emotion or brings out an emotion in the people that see it in action. I can honestly say there is a real and tangible power you can feel when you see an incredible model that knows how to move and show the garment. There becomes a relationship between the designer, the model, the garment and the person viewing it, it speaks to you in its own language that need not be spoken, yet everyone understands. I feel there is a correlation between certain automobile designs and fashion designs, its the way they evoke a visceral power feeling, I feel all things of beauty evoke these sort of feelings.
What is your main inspiration?
My main inspiration is to be of assistance to others, I gain a great deal of satisfaction when I assist someone and provide great service. There is no greater feeling than knowing you have made a positive difference in someone's life. I love to dispel the myth of the slick car salesman, by being empathetic, really listening to my clients needs and aspirations, and in doing so not only making a sale but creating a positive relationship whereby both parties benefit! I did the same thing in younger days when I was a bouncer in NYC and Boston, I loved it when someone would assume I was always ready to do battle and instead I would ask them something like, " hey how are you feeling, you ok ? " The other thing I used to say was, " listen I really just want you to have a good time, why don't you help me to help you " I used to get the most puzzled looks from people after that. One of the other motivating factor's in my life is that I work for the greatest businessman on the face of the planet, HERB CHAMBERS! He is a very inspiring person, he really lives what he preaches, which is BE OF SERVICE TO OTHERS! He is the kind of guy you look up to because he's been there and done it. He's a great mentor and been a big positive influence in my life.
Where would like to be in 5-10 years?
Hmm well I really don't see myself leaving Herb, or Mercedes, so I could see myself, continuing on either in the same role, or perhaps management, really wherever Herb needs me I would go. I would however like to see a continued collaboration with Mercedes Benz and the Boston fashion scene. I would like to see the shows become bigger better and put Boston back on the international scene!!
Who are your favorite designers:
Karl Lagerfeld, not so much that I could or would wear any of his creations, but because he is so damn fearless, and pushed so many others to break through their own barriers. I also respect his ability to create garments that communicate and have a language to them.
Giorgio Armani  the man that made men look like men again! Best suit I even owned was a real Armani back when I was a 50 regular lol ( those days are long gone.
Ralph lauren, because of his excellent use of texture, and his ability to create an understated timeless subtle look, plus he is a car lover as well and totally gets the correlation between beautiful high end automobiles!
CoCo Chanel, I mean come on, you want to talk timeless you want to talk classic, then you have to talk CoCo!
Donna Karan, I really started to like her after I saw that she was making Bill Clintons Suits! I liked the way she constructed them, especially in the shoulder area! Not to mention she created beautiful soft elegant woman's clothes that you would see those NYC lawyer ladies and advertising executives wearing. They always came across and powerful sexy but not trying to hard.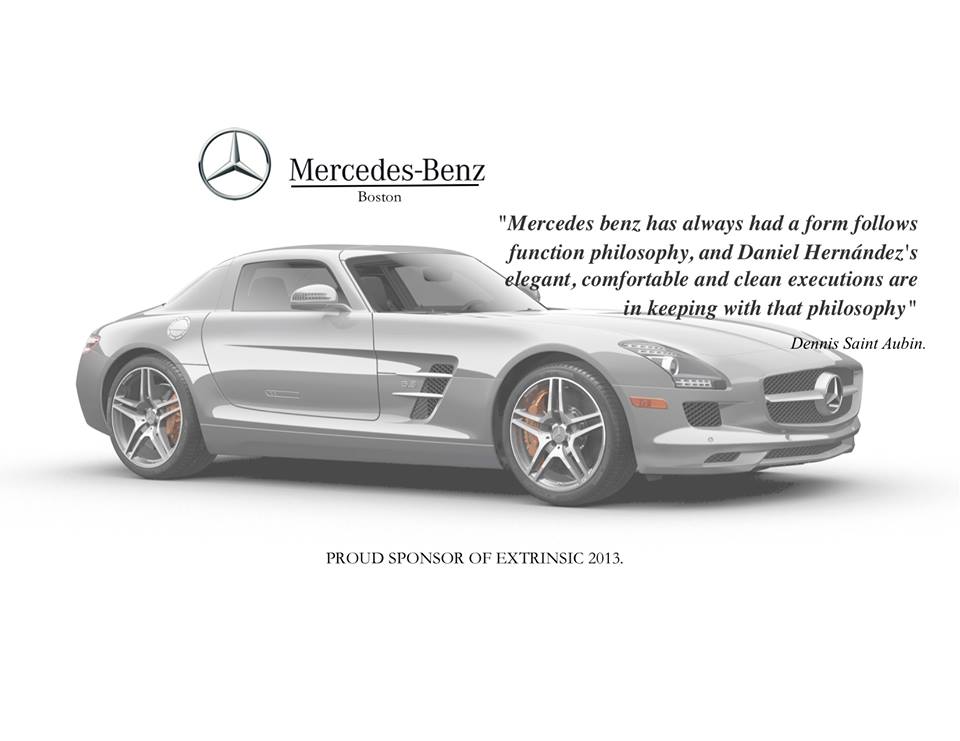 Describe the Mercedes Benz customer:
Well here's the truth, the days of the 50 yr old stuffy old school banker, or lawyer at Mercedes is over and has been for some time now! Now more than ever Mercedes Benz truly has something for everyone, we have automobiles for first time buyers, for people just starting families, business people, school teachers, young professionals, performance enthusiasts, you name it we can fulfill every need, and we accomplish that with the best people in the world, with the most automobile patents, and the longest richest automobile legacy in history! So in short My customer is everyone that wants the best!
Describe what gives your products or services value:
Well lets start with the fact that Mercedes started in 1886 that's 127 years ago, during that time we have created over 80,000 safety and engineering patents, we created the safety cell in 1951, ( also known as crumple zones ), the first airbags introduced to the market were on the 1981 S class in 1987, we created the first traction control system that worked under braking and acceleration. That being said the product has been and will always be amazing, the real thing that gives the product value is the people that stand behind it, and that's where Herb Chambers with his philosophy of customer service really shine. There's a great story out there that's absolutely true, there was a lady that bought a car and when she took delivery all of the sudden realized the car did not have a stereo. The salesman had either neglected to mention it or they had looked at so many cars that she had become confused, either way the client felt like she had been hoodwinked, what do you think Herb did? That's right he had a stereo put in! Why, because its not how good you are when sky's are blue, its how good you are when things are bad! That's the difference between an amateur and a professional. To me that's the real value, the people and the people that stand behind their product!
What's makes you unique in your industry?
Well you know that they say, " self praise is no praise." I guess what I would say makes me unique in my industry would be the way I dispel the myth of the car salesman. I tell the truth, I follow through, I never disappear when there is a problem, and thanks to Herb, ( who empowers us all to do the right thing ) I can fix any problem!
Is Mercedes Benz Boston, or should we say Herb  affiliated with any charitie?
As a company Herb gives a tremendous amount to charity, but here's the thing he doesn't want any accolades for it! He doesn't say look at me I'm a billionaire I gave 100,000 to a charity, look at how great I am, he just very quietly and humbly helps out! Herb would far prefer us all to be quiet humble professionals, than braggartly slick car guys. You see in Herbs mind when you help another person you should be doing it because its the right thing, not because its going to look good in the paper the next day.
Catch Dennis @ Extrinsic 2, This October 1rst as we celebrate high Fashion, Network and support local talent.
Tickets are now available @ https://dhstudiosinc.ticketbud.com/extrinsic2" target="_blank">https://dhstudiosinc.ticketbud.com/extrinsic2